2010
March 22, 2010 article - The World
Upbeats finish 6th at State Championships
March 19, 2010 article - The World
Love for dance spurs Marshfield seniors
March 18, 2010 article - The World
Expressive Upbeats Head to State
2009
March 20, 2009 The World Article
Upbeats bring home 4th place trophy from state dance competition
Marshfield Dance Team Update February 9, 2009
By Lynsey Bibbens, student writer and Marshfield Dance team member. Posted 2-9-09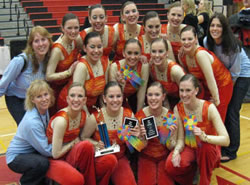 The Marshfield Dance Team has been working very hard on learning and performing new dances throughout the year. With mid season tryouts our team is up to beat. Our season is just about over, but we are all looking forward to next year!
The Upbeats went to West Albany where we finished the fall category competition season with the highest score in the entire state (1A-6A) for our novelty routine, Step in Time adapted from Mary Poppins.
The state competition team has been dancing their hearts out to make sure they get their routine perfect before the state competition. We recently went to a competition in Thurston and we did amazing. We earned the highest traditional season score a 71.2 SQS. First place!! The team was ecstatic to hear the great news! The team was also rewarded most entertaining and best in costume by the judges. In drill down the Upbeats had 4 team members place in the top 10 advanced drill: seniors Chloe Danielson, Kelsi Gaither, Sarah Woods and junior Lindsey Bunnell. Our next competition will be at Churchill on Feb.21.
Following Thurston's competition Coach Brown and 4 qualifying seniors went to the OSAA All-State dance auditions at Woodburn High School. As it is right now we have 4 seniors in the top 50 in the state: Chloe Danielson, Alyssa Mulkey, Kelsi Gaither and Sarah Woods. We will find out at the state competition in March if any of them made the final selection.
This has been such a great year for the dancers! State is coming up in March 18 & 19 at 5pm, at the Coliseum in Portland. We'd love it if you'd come up and support us! J Dance team appreciates everyone's help and support throughout the year; we wouldn't have been able to do this without it. Every single one of us on the team is more than dedicated to dance and the team, it is basically our life.
Thanks so much!

January 30th, 2009 article from The World

Upbeats pre-qualify for 2nd round of State Competition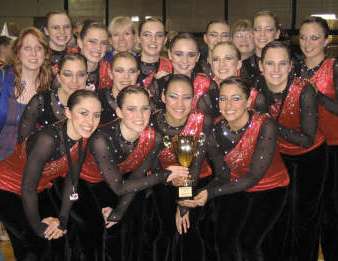 Churchill Competition February 9, 2008
The Marshfield Upbeats had an improved performance this weekend at the Churchill Competition Feb. 9. After a low score at the Thurston Competition Jan 15 the Upbeats made some major changes to their choreography and forms and earned a 67.6 at Churchill, pre-qualifying the team for second round of state competition in March. Marshfield placed second overall in the small team division, behind Sheldon Colleens (73.6) and followed by Crescent Valley (66.4), Ashland (64.1), South Salem (55.3) and Bandon (50.8). The Thurston Cabaret (73.0) won the large team division followed by Sprague (69.7), Grants Pass (69.1), North Eugene (68.4) and Hermiston (61.2).
The Upbeats also placed well in the individual drill down competition, where dancers drill off to the top ten. Out of about 80 dancers in the novice division the Upbeats had 4 top ten spots including Tara Ustica, Alyssa Mulkey, Nikki Gross and Lindsey Bunnell. In the advanced division Sarah Woods, Paige Molzahn and Chloe Danielson earn top ten placements out drilling 170 dancers.
Coach Debbie Brown is happy with the Upbeats performance. "The team has been working very hard and that showed this weekend, but we still have a long way to go. We have amazing dancers but are still scoring low in technique and precision. This is disappointing, but can be overcome with consistent effort. Our chances for improvement in these captions are strong. Our score increased 6 points since our last competition. If we could do that again at Sprague, on Feb. 23rd, we would be in a good position heading into our March competitions."
2007 5A Small Team
STATE RUNNER-UPS
Coach: Debbie Brown