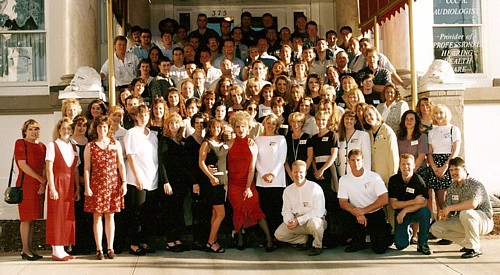 The class of 1987 will be having their 20 year reunion
August 17-18, 2012
Cost: $50 single; $90 per couple (same cost as 20th reunion)
Mail money to: 1987 MHS Reunion
c/o Monica Heyer
62550 Olive Barber Road
Coos Bay 97420
Friday night: Casual get-together w/finger food and bar
Saturday afternoon: Tour of Marshfield High (if enough interest)
Saturday night: All-American Pizza Coop with live music. We want to support fellow '87 classmates Andy and Laura Post and their fine establishment.
Questions? Please ask here or contact
Monica Heyer at theheyers@charter.net or
Chris Barron on Facebook or at tbc5150@yahoo.com.
More information:

MISSING 1987 MARSHFIELD ALUMNI
Below is a list of the alumni that we have not yet contacted – or their postcards we mailed were returned. Please help get the word out about the reunion. We want everyone to come!!
Tami Ainsworth (Epley),
Thomas Berry,
Susan Bierer (McCarver),
Jimmy Buck,
Shannon Buzzelle (Arsenault),
Thomas Collins,
Ronald Companion,

Myrtho Drouin,
Nora Flores,
Cassandra Folwell,
Angela Foster (Canales),
Jeanene Fox,
Sean Frank,
Tammy Gill (Banks),
Dee Glick,

Chris Hale,
Christina Hanlon,
Ann Hanson (Damian),
Michelle Hermann (Brown),
Randy Holcomb,
Kirsten Howell (Ricketts),
Mary Ivy,
Sherri Johnson,
Kathy Jones (living in Coos Bay),

Charlie Kemper (living in Bandon),
Gina Kim (Krossman) (Living in North Bend),
Patricia King,
Kenneth Knight,
Pamela Linford (Pavlinac)
Clyde Lucas,
Misty Marty,
John McClary,
Shannon Meyer,
Michael Miller,
Jon Myhre,

Eric Neet,
Inma Ortega,
Barbara Owens,
Lila Ranta (Brittain),
Laura Reis,
Patricia Richards,
Stephanie Ritchhart (Thompson),
Blanca Rojas,

Patrick Scherich,
Thomas Simpson,
Penny Stark,
Cathy Stough,
Yen Tank,
Joni Warren (Fisher),
Amy Wells (Genz),
Cindi Youngberg