We need your help completing the volleyball web page.

If you have information about coaching records, all-stars, or photos, please contact our athletic director, Greg Mulkey.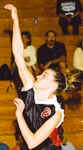 Laurie Brands 1973 Team
Although volleyball didn't become sanctioned by the OSAA until 1974, the Pirate
girls participated in the extramural and play-day concept of volleyball competition between other high schools in Coos County throughout the 1960's. In 1972 Marshfield introduced it's first "power volleyball" team, coached by Mary Paczesniak, which practiced daily and competed against the Eugene schools as well as against other Coos County schools.
In 1973, the Midwestern League expanded it's schedule to include the first ever season ending District 5AAA Volleyball Tournament, with the champion being the only representative from the league at the State Tournament in Monmouth (OCE). Marshfield advanced through the opening rounds into the championship bracket, finishing a successful 3rd place.
The success of the Pirate volleyball program was just beginning. 1974 saw the dawning of the Coach Cherry Blaine era, as Marshfield developed into a State volleyball powerhouse. During Blaine's 13 seasons at the Pirate helm, the volleyballers finished 2nd in the league once, Co-Champions twice, and Midwestern League Champions 8 times. They also placed well at the State Tournament with two 3rd place finishes, a 4th and a 7th place finish.
One of Coach Blaine's assistants, Ken Tedder, took over the reigns of the program in 1987. Tedder coached 17 seasons, winning 70.9 % of league matches, earning four district titles and finishing second five times. After Coach Tedder's retirement at the end of the 2003-4 season, Tammy Montiel became head coach. Coach Montiel continued the tradition of excellence in Pirate volleyball, as Marshfield once again earned their way to the state tournament.