2010 Hall of Fame

1972 Girls State Track Champions


Back Row L to R: Karen (Banks) Gwartney, Cheryl (Bates) Duman, Jennifer (Bates) Pleus,
Diane Walker, Marilyn Wilson, Tina (Rausch) Smith
Front Row L to R: Kathe (McNutt) Stufflebean, Sally (McInturff) Hursman, Fran (Auer-Sichting) Worthen,
Vicki Hunt, Veanna Morris Stanton




Coach Kay Chambers


Thank you for this honor and fond memories. After leaving Marshfield I relocated to Tempe Arizona, teaching and coaching at Mesa Community College. Our track team won the NJCAA Championship in 1979 (held at Hayward Field in Eugene, OR--so perfect!) I was twice named NJCAA Women's Outdoor Track and Field Coach of the year. I recently retired.

Karen (Banks) Gwartney—MHS Graduate 1972
She graduated from University of Oregon with a BS in Education. She competed in collegiate volleyball, basketball, track, and equestrian. She taught PE at Thurston High School and coached volleyball, basketball, and track. Karen went on and graduated with an MBA from University of Nevada Reno in 1983. She is a National Cyclist and Triathlon competitor. Currently, Karen lives in El Dorado Hills, CA. (foothills outside of Sacramento) and is working in the Medical Device Industry. She is married to John Gwartney, and has a 16-year old daughter Kirsten Jean.

Cheryl (Bates) Duman—MHS Graduate 1973
Since graduating from Marshfield in 1973 I earned an Associate of Arts degree from Lane Community College, a Bachelors of Science and Masters of Science from the University of Oregon and counseling certification from Oregon State. I ran cross country and track at Lane and University of Oregon and competed at the national level. I have over thirty years in public education, teaching physical education and health and counseling and have coached gymnastics, tennis, track, cross country, soccer, basketball, and volleyball for over thirty years as well. I have been married for thirty-one years to my husband Les and have two children, a son Derek who is a junior at the University of Portland and a daughter, Danielle who will be a sophomore at Churchill High this fall.

Jenifer (Bates) Pleus
After leaving Coos Bay, I finished my high school education at North Eugene High School and attended the University of Oregon where I graduated with a Masters Degree in Social Psychology of Physical Activity. While at Oregon I competed in Cross Country and Track and Field four years and continued running after college, qualifying for the Olympic Trials in the marathon in 1988 and 1992. I coached Cross Country and Track and Field twenty five years and have been teaching Physical Education the past 28 years in the Eugene School District, the past 16 years at Churchill High School.

Andrea Crim—MHS Graduate 1974

Vickie Hunt—MHS Graduate 1974
After I graduated from Marshfield High School in 1974, I attended the University of Oregon. I majored in Physical Education and earned a BS degree in 1979. While at the University of Oregon I played women's varsity Basketball. I was a four year letter winner playing point guard from 1974-1978. In 1980 1 was hired by the Coos Bay School District to teach Physical Education/Health at Sunset Middle School. In addition to teaching, I also coach volleyball, basketball, and track. I taught at Sunset Middle School for six years. In 1989 I was hired by the Junction City School District in Junction City, Oregon to teach middle school Physical Education. I also coached volleyball and basketball. I have taught high school Physical Education in Junction City since 2003. 1 have been with the Junction City School District for twenty one years. I plan on completing my teaching career and retire in June 2011.

Sally (McInturff) Hersman—MHS Graduate 1972
After high school, I went to the University of Oregon. I played sports there and majored in Physical Education. I have been teaching at Lyden High School in Lyden, Washington for the past 30 years. I am married to Craig Hersman and we have two sons. Thank you for this honor.

Kathe (McNutt) Stufflebean—MHS Graduate 1972
Presently works as an Educational Assistant at Madison Elementary School in Coos Bay. From 1987 to present, Kathe has coached the Marshfield High School Swim Team. She also manages the Mingus Park Pool and coaches the Gold Coast Swim Team. She has been married 10 years to Kevin Stufflebean, has two sons, Jeremy and Kai; and two grandchildren, Elizabeth and Alex Bourell.

Veanna (Morris) Stanton—MHS Graduate 1974
1972 Girls State Championship Track and Field Team, Discus. Marshfield Graduate Class of 1974. She married Jeff Stanton (Marshfield Graduate Class of 1973) on May 21, 1977. They have two sons, Matthew and Michael. She was an active member of the Bay Area Slow Pitch Softball Association, playing for Coos Oregon/ILWU who won 2 State Slow Pitch Softball championships during her playing years. Veanna won the Oregon State and Northwest Regional Homerun Contests in 1986 and traveled to Oklahoma City and participated in the National Homerun Contest where she placed 3rd. She coached girls volleyball for SWOYA and coached boys T-Ball and Little League in North Bend. She relocated to Hillsboro, Oregon in September 1993 due to a job transfer with Western Bank. Veanna worked for Western Bank/Washington Mutual from December 1977 to September 2008 as Vice President and Manager of the Consumer and Commercial Loan Servicing Center and Business Bankcard Center. She is currently with Bank of America in their Mortgage Fulfillment Center in Hillsboro, Oregon. She enjoys reading, watching football, camping, hunting and 4-wheeling in the mountains as well as preparing "honey-do" lists for her husband, Jeff. She and Jeff are currently developing their property in Eastern Oregon where they are building their retirement home. Even though she has been transplanted to the Portland Metropolitan Area, Coos Bay will always be home. Once a Pirate … Always a Pirate!!!!!!

Laura Pickerel—MHS Graduate 1975

Patricia Poitra
Born in North Bend, she attended Roosevelt Elementary, Milner Crest, and Marshfield Junior and Senior High schools. During her senior year at South Eugene High she was a member of the Who's Who for Oregon Track & Field as a javelin thrower. As a freshman at Eastern Oregon State College her basketball team won the Pacific Northwest Collegiate Championship. For one year, she attended the Universite de Poitiers in France and played club basketball. After graduating from the University of Oregon with a B.A. in Finance she moved to New York City where she became a licensed stockbroker and Certified Financial Analyst (CFA). For the last 8 years of her 22 years on Wall Street, she was Director of Equity Investments overseeing $2.6 billion of investments. She and her husband, Dennis Fitzpatrick have a 15 year old son, Jack. For several years she's been very active in her son's school life both as the P.A. Treasurer and as chairperson of it's largest fundraising campaign.

Cynthia Pratt—MHS Graduate 1975

Susan Rudy—MHS Graduate 1974

Tina (Rausch) Smith—MHS Graduate 1975
I have worked for Coos Bay Schools for 26 years. I have been a school cook, special education assistant, and now a custodian at Marshfield. I also work at Mingus Park pool as a custodian. I have two children, Tara 29, and Kyle 27 and a granddaughter, Kendra, who is 4 years old. I enjoy spending time with my family.

Mary Sepich —

Diane Walker—MHS Graduate 1975
After leaving Marshfield I went to College at Southern Oregon University in Ashland Oregon in 1976. I soon graduated with a BS in 1980, and accepted a teaching position at Monmouth Elementary in Monmouth, Oregon. There I started my wonderful career as an Elementary Physical Education teacher. After two years in Monmouth I began a 28 year run as the P.E. teacher at Highland Elementary in Grants Pass, Oregon. I was excited about getting back to the Rogue Valley and completed my 30 year teaching career there. This past July I retired and have moved to Carson City, Nevada. I enjoy water skiing and boating and will be taking advantage of living by Lake Tahoe.

Marilyn Wilson—MHS Graduate 1972
After a fun-filled and active 4 years at MHS, I headed to Oregon State University. Sports continued to be extremely important and I competed at OSU all 4 years in volleyball, basketball and track & field. Whew.... that kept my attention and focus on keeping my grades up! Graduating in 1976 with a degree in Physical Education and Health, my travels lead me to Spokane where I settled in at The Spokane Club as Athletic Secretary, Racquetball Instructor and Sports Coordinator. More time, jobs and travels continued when I found myself moving back to Coos Bay in 1982. Still very active in sports, running marathons, racquetball and fitness, I began work at The Bay Area Athletic Club, reserving for the Police Department and also as a Federal Express driver. In 1987 I changed directions and accepted the job as Espresso Bar Manager at Cone 9 until Karen sold the business in 2004. That was a great job and something completely different for me! I also have been volunteering at Marshfield swim and track meets. It has been inspiring and great fun to watch kids compete and excel in programs that were so important in my high school career and my life. My latest, personal challenge has been chasing that little white golf ball. Now there is a test!! I love living back in our area surrounded with friends and family. I am honored to be a part of tonight's celebration.

Fran (Auer-Sichting) Worthen—MHS Graduate 1972
After her graduation from Marshfield in 1972, Mike Hodges at Southwestern Oregon Community College recruited her for his men's squad. Fran became the first woman in the nation to compete on a men's junior college track team. She began a regimen of weight training, plyometrics, and interval training and her times improved dramatically. She was invited to national and international competitions and found success at each level. Fran broke the American record at 220-yd. dash three different times but was denied official recognition on technicalities. In 1974, Fran was the AAU National Open Women's Champion in the 220-yd. dash and fifth in the 100-yd. dash. Her finish earned her All-American status. As a member of the USA Women's team, Fran was a member of the 400m relay team that set the American record in the 1974 USA vs. USSR International Track Meet at Duke University in Durham, N.C.

Fran retired from track & field in 1975 and turned her attention to motherhood. In 1998 Fran joined the coaching staff at Marshfield High School working with sprinters and jumpers. In 2002 she stepped up to the head coaching position. In 2005 her women's team won the 4A State T & F Championship and in 2008 the Pirate men won their first ever 5A State Championship. Fran credits her success in athletics to her God-given athletic ability and to the coaches who mentored her in the fundamentals of the sport and helped her grow as a person: Stan Solomon, Walt McClure, Nadine Brood, Mike Hodges, and Hunter Fales.

Fran married the late Ted Sichting in 1972 and they had three daughters: Nikki, Marcy, and Kelly. Jerry Worthen and Fran were married in 1986 and Leah and Ali were added to the family. Jerry and Fran now live in their cabin on the East Fork of the Millicoma River in Allegany.


C. Kent Garner

-

1964 MHS Graduate

Kent graduated from Marshfield in 1964. He won Marshfield's first-ever state high school wrestling championship title that year at 141 pounds. Kent was a three-year letterman, two-time district 5A-1 champion and state high school AAU runner-up in 1964. Kent matriculated to Princeton University on an academic scholarship. He wrestled on the varsity team his sophomore year. Kent received his B.S.E. in Aerospace and Mechanical Sciences in 1968.

Upon graduation, Kent was commissioned as a second lieutenant in the U. S. Marine Corps. In 1969, he married the former Linda R. Smith, MHS '66. He served three years on active duty in the U. S. and Asia, and remained in the active reserve until 1983 when he retired with the rank of major.

Following his discharge from the Marines, Kent entered the Haas School of Business at the University of California, Berkeley. He was elected to Beta Gamma Sigma and Beta Alpha Psi, national business and accounting honor societies. He graduated in 1973 with his Master of Business Administration. In 1976, Kent earned his certified public accounting certificate.

Kent's 35 year business career has encompassed a wide variety of domestic and international industries including banking, mining, retailing, outsourcing and educational publishing. He has served in executive positions including corporate treasurer, chief financial officer, president and company director. Kent has worked in public and private companies with revenues ranging from a few million dollars to several billion dollars. While trying to figure out what "retirement" means, he remains a partner in The Interlochen Group, a corporate finance consulting firm.

Active in professional and civic organizations, Kent is a past director of the National Association of National Treasurers, served on The Conference Board's CFO Council and is past president Financial Executive International's Birmingham, AL chapter.

Kent has been involved with the Boy Scouts of America since growing up in Coos Bay where he earned his Eagle Scout badge. He was an assistant scoutmaster in his son's troop, served on the Atlanta Area Council's Executive Board for ten years and is now on its Advisory Board. Through his Trout Unlimited Chapter, Kent conducts fly-fishing merit badge clinics for Scouts.

Kent and his wife of 39 years, Linda, have two children, Ben and Alison. Linda is retired from Marriott International. Ben is a mechanical engineer with Newcomb & Boyd, a consulting and engineering design firm. Ben and his wife, Cinnamon, live in Atlanta. Alison is a deputy public defender for Orange County, CA. Kent and Linda reside in Atlanta.

Stephen B. Garner -

1968 MHS Graduate

Born in 1950, Des Moines, Iowa.

Moved with family to Oregon in 1952. Two older brothers, John D. (deceased), C. Kent, one younger sister, Lois L.; parents Patricia H. and Dr. John W. Garner, both deceased.

Began wrestling in the first year of Fred Grant's program at Marshfield Junior High.

Graduated MHS in 1968, 11th in class. Within an hour of graduating, he left Coos Bay to participate in the Cultural Exchange tryout tournament in Lebanon, Oregon.

Captain of Oregon Cultural Exchange Wrestling Team to Japan, Summer 1968.

Graduated Princeton University with A.B. in 1972.

Traveled extensively in Europe, North Africa in 1972-73

Received M.S. from University of Oregon in Biology.

Traveled extensively in Europe, USA and Mexico; worked in California, 1974 to 1978.

Received M.B.A. from the Amos Tuck School of Business, Dartmouth College, 1980.

Worked for a variety of high technology companies in California from 1980 to 1983.

Established Effective Marketing Associates, a consultancy, in 1983.

Married Cindy L. White, Albany, Oregon in 1987.

Moved back to Oregon in December 1989; reside in West Linn, OR since 1990.

Moved family to Spain for a year, June 2002 to July 2003, so the kids could learn Spanish, understand a different culture and make new sets of friends

After graduating from college Stephen earned a couple of graduate degrees before settling down in California, where he met and married his wife, Cindy (born and raised in Albany, OR). He lived in California until1989, then moved back to West Linn, Oregon.

He has two children, Prescott, 19; and Madison, 17. Prescott is also a wrestler and is an Oregon State Champion and a multiple-time top 5 placer at National Championship tournaments. He currently attends the US Naval Academy. Madison is a senior in high school this year and speaks 2 foreign languages. This summer she spent 3 weeks in Italy beginning her third foreign language. She is considering a career in early education and psychology.

Stephen and Cindy still live in West Linn with Madison and their dog, Shea. They enjoy traveling and after the 30th reunion, they went to the Sydney Olympics, Cambodia, Hong Kong, Raratonga, New Zealand, Tasmania, and Thailand. In 2002, wanting the kids to learn a foreign language, the family moved to Spain for a year. Stephen is in the 25th year of running his management consultancy. Life is good, work is fun, kids are nearly grown, a new phase is about to begin, and traveling will increase.

Kristy Johnston 1983 MHS Graduate
Education:

1983 Graduate, Marshfield High School
1988 Bachelor of Arts Degree, English from University of Portland, Oregon
1990 Standard Teaching Certificate, Language Arts, University of Oregon, Eugene, Grades 5-12

Career Highlights:

State 3000 co-champion as a senior
Five-time All-America pick in NAIA cross country and track.
1993 Houston Marathon winner
1994 Chicago Marathon winner
5th in the marathon at the 1996 Olympic Trials
Runner-up 2000 U.S. Olympic Marathon Trials
Attending the same high school as legendary Steve Prefontaine inspired her to go out for the track team. She had run times of 4:43.2 (1500) and 10:07.7 (3000) as a prep and tied for the state 3000 title as a senior. She was a five-time All-America pick in NAIA cross country and track. After college, she took a few years off and moved to Eugene, where she started training again. Mike Manley [1969 national champ in steeple] was a big influence.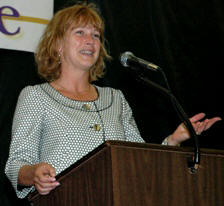 Kristy earned a degree in English and now teaches full-time, seventh and eighth grade language arts at Martinsburg South Middle School. She was coached by Chris Fox, whom she married on December 28, 1998. Fox is a former top-flight distance runner (13:21.60 for 5000, 2:13:43 for the marathon); now 40, he is competing on the masters circuit. They work well together and train together quite often.
Regarding the future, she says, "I still think I can run faster. In my heart and my head I have a 2:27. 1 think I can do it. I'm going to keep going as long as it takes or until I fall apart."
ATHLETIC ACCOMPLISHMENTS:
2000: US Olympic Trials-2nd Place-Alternate for US Olympic Team, Columbia, SC.
2nd at Olympic Trials (2:35:3) but did not qualify for Olympic team due to lacking Olympic `A'
standard.
Finished 8th at LaSalle Bank Chicago Marathon (2:33:20);
Ranked #2 in U.S. by T&FN; best of 2:33:20.
1999: 10th at Chicago; ranked #3 by T&FN; best of 2:32:34.
1998: 8th in Chicago (2:32:37); ranked #3 in U.S. by T&FN; best of 2:32:37.
1997: 13th in Chicago (2:42:24); best of 2:42:24.
1996: US Olympic Trials 5th Place-Alternate for US Olympic Team, Columbia, SC.
5th at Olympic Trials (2:34:21); 2nd in Chicago (2:31:06); ranked #5 in U.S. by T&FN;
best of 2:31:06.
1995: 8th in Chicago (2:35:50); best of 2:35:50.
1994: Won Chicago (2:31:34); best of 2:31:34.
1993: Won Houston (2:29:05 PR); ranked #2 in U.S. by T&FN; best of 2:29:05.
1992: US Olympic Trials 11th in 10,000 heat at (34:52.99); also 9:14.8 for 3000; best of 34:52.99
(10,000).
1991: 8th in Houston (2:39:45 PR); 16th in USA Champs 10,000 (33:49.70); best of 2:39:45, plus
32:56.1.
1983: Oregon State 3000 meter State Co-Champion
1983-1988: 5-Time All-American in track and cross country at University of Portland.
COACHING ACCOMPLISHMENTS:
20O5: Girls Alabama State Championships, 5th place cross country
2005: 3rd place girls indoor 800 meters, 4th place boys 4x400 meters, 2nd place boys 4x 100 meters, 3rd place boys 200 meters, 4th place boys 400 meters
2004: State Champion boys 4x400 meters, 2nd place boys 4x 100 meters. 4th place boys 800 meters, 3rd place boys 400 meters, 3rd place boys 200 meters, Boys Team 2nd place overall, 4th place girls mile
2004: Girls 5th place State Cross Country Championships
2003: Girls 4th place State Cross Country Championships
EMPLOYMENT:
1999-Present: Co-Owner of Head to Toe Athletics
2006: Assistant boys track coach at Cazenovia High School
2005-Present: Coach local athletes for marathon and other fitness goals
2002-2005: Assistant track coach-boys and girls, assistant girls cross country coach, Auburn High School, Auburn, Alabama Northern Middle School, Hagerstown, Md. Head cross country coach and assistant track coach-boys and girls, Hagerstown High School
1998-2000: 7th and 8th grade language arts teacher at South Middle School, Martinsburg, WV. Assistant cross country coach-boys and girls
1993-2000: Professional marathoner
Ed Keim - MHS Pirate Sports Announcer 1960-2006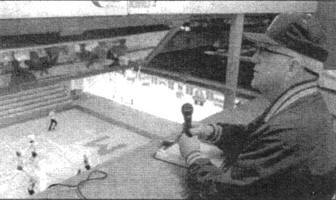 Sports announcer Ed Keim always had one of the best seats in the house at the Marshfield Lady Pirates home basketball games. From the wooden booth high above the gymnasium floor, he kept his eyes on the game from the jump ball until the end of the fourth quarter. His soft, energy-filled voice fed the fans' imagination through KMHS 1420 AM with his shot-by-shot account of the girls in action. Ed was joined by two friends and co-announcers Ron Nance and Steve Walker. The trio worked together scribbling down game statistics and announcing girls basketball, and boys baseball. Keim enjoyed announcing the girls basketball games because they gave out as much effort as the boys teams, but did not always receive the recognition they deserved.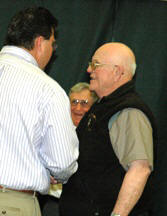 Keim graduated from radio school in 1950 after his discharge from the Army in Dallas. His first job was at KTXJ in Jasper, Texas

in 1950. He did many things at the station, but wanted most to be a sports announcer. The position was held by the station's general manager. Ed tagged along with him, begging to do the sports, and

finally one day, he got to do a couple of plays at a baseball game

and then went on to do a couple of innings.

Keim soon moved to a station in Louisiana and began announcing baseball. He had "exaggerated" his experience, but when it came time to start, he just started talking. Later, he couldn't remember what he said, but the station loved it.

Later, he moved to California and Idaho before arriving in the Coos Bay area at KOOS radio. In the early 1970s the station was sold and he decided to go into real estate and then on to mortgage brokerage.

When asked if girls basketball was his favorite sport to announce, he said, "I love them all. They are all my favorites for different reasons and they all have a special place in my heart."
Born 1923 in Chicago.
Moved with his family to Canada for seven years during the great depression.
Graduated from Lane Tech in 1941 in Chicago, at that time the largest all boys high school in the nation

WWII, Army specialized training program at the University of Alabama and Pratt Institution in Brooklyn, New York
75th Infantry Division committed to combat, Battle of the Bulge, Christmas Eve, 1944

Married 1946, raised two children who graduated Marshfield in the mid 1960's
Institute of Radio Broadcasting, Dallas, Texas, 1949,
First Radio Job at KTXJ, Jasper, Texas, February 1950
Over the years broadcast high school football, baseball, basketball, boxing, wrestling, swimming & bowling in Texas, Louisiana, California, Idaho and Oregon
Professional Class C Minor League Baseball, Evangeline League in Louisiana and Pioneer League in Idaho
Idaho State Football, Basketball, and Boxing in the Rocky Mountain Conference (Teams in Montana, Utah & Colorado)
The Final NCAA Boxing Tournament held in Pocatello, ID Spring 1955
Moved to Coos Bay, October 1960
Marshfield Pirate Sports Announcer
A-2 State Basketball Tournaments in Coos Bay for OAB in the 1960's
-
1948 MHS Graduate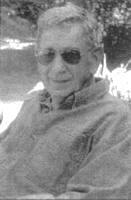 Don Megale was one
of
Marshfield High School's all-time tennis stars. He was at Marshfield from 1944 to
1948.
He dominated Coos County High School
Tennis, leading the Pirates to 3 undefeated seasons.
During his four years at Marshfield, he played # 1 singles and won a total of 16 tennis titles. In 1947 and 1948, he placed 2nd in the State Championships. Don was also a member of the 1946-47-48 Pirate basketball teams.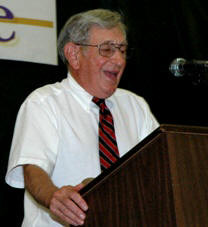 In 1954, he was selected to the United States Air Force Tennis Team. He later coached basketball and tennis at Klamath Union High School. His 1958 basketball and tennis teams won State Championships.
Don went on to become the head tennis coach at Oregon State University. He is a USTA Nationally ranked Senior Tennis player. In 2001, he was ranked #3 in Doubles, and #14 in Singles. He is now retired, but is still playing Senior Tennis. He resides in Corvallis, Oregon.




Janet (Stamper) Holland -
1977 MHS Graduate
Career Highlights:
1976 State Champion 50 Free
Marshfield Team MVP on 3rd Place State Volleyball Team 1976-7
Marshfield 1976 Girl's Track Team Most Outstanding Athlete
Small College All-American 50 Free 100 IM
Professional Triathalete - Winner Fountain Mountain Triathlon, Scottsdale, AZ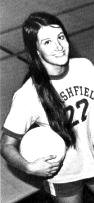 I was born in 1959 to Chuck and Lucille Stamper of Coos Bay. I joined sisters, Jo Anne and Julie, and brother Bill. I attended Blossom Gulch and Milner Crest elementary schools, and then Marshfield Junior and Senior High Schools. After my dad died in 1964, my mom married Chap McCarthy and they had a son, John. My mom died in 1970 and a few years later Chap married Dortha Williams who had two children, Tom and Barri; and they had one daughter together. Molly (McCarthy) Skundrick. To say I've had a lot of family support along the way would be an understatement.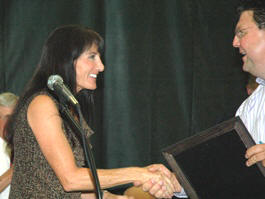 My older sisters were swimmers and I tagged along with them to all of their swim meets when I was just a few years old. At the age of 6, 1 got my first AAU swimming card, which enabled me to start competing. I swam through elementary school and added track and volleyball in junior high. In high school I swam my freshmen year, added track my sophomore year and volleyball my junior and senior years. I had the pleasure of being a freshman on Marshfield's swim team while sister Julie was a senior. Watching her accomplishments in and out of the pool really inspired me. It was also much easier getting up and out the door to many a rainy 6 a.m. swim practice with a sister doing it with you.

I was blessed to have had Ralph Mohr, Cherry Blaine and many other wonderful coaches mentoring me along the way. Mr. Mohr's influence on my athletic career after high school was an important part of my continued career as a triathlete. Ralph still checks in on me even today and we get together for swims at Mingus Pool when I am in town. As for Ms. Blaine, to this day whenever I hear the Seals and Croft song, Summer Breeze, I think of Cherry leading our volleyball team in mental imagery and each of us on our team playing the perfect volleyball game.

After high school I walked on to the swim and volleyball teams at Willamette University where I went to school for my freshmen and sophomore years. My sophomore year I was honored to be voted by the swim team to be the Girl's Team Captain. That year I also earned Small College All-American status in the 50 Free and 100 IM at Nationals.

During the spring of my sophomore year I decided to double major in Physical Education and Health Sciences. This meant leaving Willamette, so I packed up and drove to Phoenix and became an Arizona State Sun Devil. My first stop at ASU was to meet the swim coach. He invited me to walk on and I was thrilled to swim with the women I had read about in Swimmers World magazine. I had never worked harder than the years swimming for ASU. It was a wonderful experience.

I graduated from ASU in 1982 and took a teaching job in Tucson for the Catalina Foothills School District and now enter my 27th year of teaching there. I am fortunate to have a job I love where I can teach young people the value of lifetime fitness. Once settled in Tucson, I discovered I still enjoyed a good swim workout and soon found myself competing in masters swim meets. This was a great way to make new friends in a new town. I discovered 1Ok running races soon after and the transition to triathlons followed.

Competing in triathlons opened up a whole new world. After turning pro and winning the Fountain Mountain Triathlon near Scottsdale, Arizona, I was offered sponsorship on a Chicago based triathlon team, Profile for Speed. Being a member of this team meant traveling around the country competing as a professional triathlete in major cities. I loved it! Some of my favorite races included the Hawaiian Ironman World Championship, The Escape from Alcatraz Triathlon, the Chicago SunTimes Triathlon, and the Los Mochis Triathlon in Mexico.

It was through triathlons and friends that I met my husband, Doug Holland. We had mutual athletic friends who thought that we would hit it off and they were right. Doug was a race director and athlete and loved sports as much as I did. After a long distance relationship for over a year (he was in living in Scottsdale and I was in Tucson) we got married in 1990 in Lake Oswego, Oregon and he joined me in Tucson where we live today.

Doug has a running streak of never missing a day of running in 26 years which has helped me get out the door on those days when I am leaning more toward sleeping in. Once I get going I am so glad that I did! Besides being a great husband and friend, he is also a great workout buddy.

In 1992 we decided to start a family. Our daughter, Brooke Lucille, was born in 1993 and her brother, Lee Stamper, joined her in 1995 to make our family complete. I ran and swam through both pregnancies and but soon lacked the drive to spend as many hours training and being away from my family. I still felt the competitive drive to compete so turned to running road races since I could do that with little time away from my family and I really enjoy it. Since my 40th birthday I have been racing the local Master's road races circuit and find it a great way to keep my competitive fire burning. Though I might not break any of my old running times, I'm not too far off and hope to keep racing into the next year when I break into a new age group-50-54! Yikes! In the back of my mind the lure of the triathlon still lingers and turning 50 might just be the new challenge to put me back at the waters edge with bicycle and running shoes waiting not too far behind.

The honor of being nominated and selected for the Hall of Fame at Marshfield High School is one that I'll always treasure. It only seems like yesterday that I was getting up at the crack of dawn for morning swims and later returning for afternoon volleyball and track practices. In closing, so many people have helped me along the way to living an adventurous life that I can only describe as a gift from God. Thank you.



1956 Marshfield State Championship Football Team


Head Coach Pete Susick
Assistant Coaches Chet Haliski, Tony Koreiva, Walt Paczesniak, Dean Sheldon
1956 State Champions

Scores

State

33

Benson

6

46

Coquille

6

Quarterfinals

20

Grants Pass

0

46

LIncoln

7

20

Medford

20

32

Roseburg

7

Semi Finals

27

Springfield

7

32

Pendleton

14

38

Eugene

7

32

Prineville

19

Finals

38

North Bend

0

40

Medford

19
Chuck Amsbarry
Gary Anderson
Bob Andrews
Ken Baker
Ed Barnes
Larry Bick
Dave Bingham
Leroy Bracelin
Barry Bullard
Tim Bullard
Dale Cardwell
Joe Clark
Bill Cochran
Mike Coleman
Jim Crabtree
Dean Davies
Curtis Egger
Bob Ferguson
Lyle Fowler
John Forrester
Mike Gardner
Ron Gebhardt
Les Golbeck
Bob Grant
Dick Hatcher
Jack Hoffman
Walt Hunter
Tom Jenkins
Jim Johnson
Ken Johnson
Roger Johnson
Thomas Knutson
Gary Kvalheim
Jim Loar
Stewart Lyons
Bob McCombs
Ken Messerle
Donald Nelson
Tom Patch
Steve Pennington
LeRoy Reinhart
Gary Rossi
Chuck Russell
David Sampson
Chuck Sasse
Rick Saukkonen
Gary Scott
Jack Shanley
Clayton Smith
Gary Smith
Mel Spaght
Hardy Spurgeon
Jerry Tankersley
Larry Tankersley
Ken Tanner
Clinton Webb
Michael Whitty
Ed Wilson